Formação de óxidos de colesterol e alteração dos ácidos graxos em produtos cárneos
Palavras-chave:
produtos cárneos, colesterol, óxidos de colesterol, ácidos graxos, revisão
Resumo
O processamento dos produtos cárneos pode ocasionar a oxidação do colesterol levando à formação de óxidos de colesterol, os quais estão associados ao surgimento de placas ateroscleróticas e a vários efeitos biológicos indesejáveis. Esta revisão integra dados sobre a presença de óxidos de colesterol, bem como os teores de colesterol, lipídios totais e ácidos graxos em produtos cárneos processados. O efeito do cozimento e do tempo de estocagem dos produtos cárneos na formação de óxidos de colesterol e alteração dos ácidos graxos também são abordados.
Downloads
Não há dados estatísticos.
Referências
1. Kwiterovich PO. The effect of dietary fat, antioxidants,and pro-oxidants on blood lipids, lipoproteins, andatherosclerosis. J Am Diet Assoc 1997, 97(7): 31-43.
2. Roberts WC. Atherosclerosis risk factors are there ten, oris there only one? Atherosclerosis 1992,79:1146-8.
3. Lambertson G. Trans fatty acids topic for Lipidforum. Am Oil Chem Soc 1992, 3: 196-207
4. Smith LL. Cholesterol Autoxidation. Chem Physis Lipids1987, 44:87-125.
5. Morel DW, Chen IL. Cellular bilchemistry of oxysterolsderived from the diet or oxidation in vivo. Nutr Biochem1996, 7:495-506.
6. Finocchiaro ET, Richardson T. Sterol oxides in foodstuffs: A Review. J Food Prot 1983, 46:917-29.
7. Hubbard RW, Ono Y, Sanchez A. Atherogenic effect oxidized products of cholesterol. Progr Food Nutr Sci1989, 13: 17-44.
8. Bössinguer S, Luf W, Brandl E. Oxysterols: Their occurrenceand biological effects. Int Dairy J 1993,3:1-33.
9. Guardiola F, Codony R, Addis PB, Rafecas M, BoatellaB. Biological effects of oxysterols: current status. Food Chem Toxicol 1996, 34: 193-8.
10. Peng SK, Morin RG. Effects on membrane function bycholesterol oxidation derivatives in cultured aortic smoothmuscle cells. Nutr Diet 1987, 14:85-94.
11. Chisolm GM, Ma GP, Irwin KC, Martin LL, GundersonKG, Linberg LF, Morel DW, DiCorleto PE. 7b-Hydroxycholesterol a component of human atheroscleroticlesions is the primary cytotoxin of oxidized humn lowdensity lipoprotein. Atheroscler 1994,91:11452-65.
12. Dzeletovic S, Breuer O, Lund E, Diczfalusy U.Determination of cholesterol oxidation products in human plasma by isotope dilution – mass spectrometry. AnalBiochem 1995, 225:73-81.
13. Hughes H, Mathews B, Lenz ML, Guyton JR. Cytotoxicityof oxidized LDL to porcine smooth muscle cells is associatedwith the oxysterol 7-ketocholesterol and 7-hydroxycholesterol. Arterioscler Thromb1994, 14:1177-91.
14. Rong JX, Rangaswamy S, Shen L, Dave R, Chang YH,Peterson H, Hodis H, Chisolm GM, Sevanian A. Arterialinjury by cholesterol oxidation products cause endo thelialdysfunction and arterial wall cholesterol accumulation.Arterioscler Thromb Vasc Biol1998, 18:1885-94.
15. Peng SK, Zhang X, Chai NN, Wan Y, Morin RJ. Inhibitory effect of cholesterol oxides on low density lipoproteinreceptor gene expression. Artery1996, 22:61-79.
16. Deckert V, Viens L, Lizard G, Athias A, Lallemant C, Gambert P, Lagrost L. Inhibitors of arterial relaxationamong components of human oxidized low-density lipoproteins. Cholesterol derivatives oxidized in position7 are potent inhibitors of endothelium-dependent relaxation. Circulation 1997, 95:723-31.
17. Bjorkhem I, Oftebro H, Skrede S, Pedersen JI. Assay of intermediates in bile acid synthesis using isotope dilution-mass spectrometry: hepatic levels in the normal state andin cerebrotendinous xanthomatosis. J Lipid Res1981,22:191-8.
18. Javitt NB, Kok E, Burstein S, Cohen B, Kutscher J. 26-Hydroxycholesterol. Identification and quantitation inhuman serum. J Biol Chem 1981, 256:12644-56.
19. Kumar N, Singhal OP. Cholesterol oxides andatherosclerosis: a review. J Sci Food Agric 1991, 55:497-511.
20. Spencer TA, Gayen AK, Phirwa S, Nelson JA, Taylor FR,Kandutsch AA, Erickson SK. 24(S)-, 25-Epoxy cholesterol.Evidence consistent with a rolo in the regulation of hepaticcholesterol-genesis. J Biol Chem 1985, 260:13391-8.
21. Black HS, Douglas DR. A model system for the evaluationof the role of cholesterol oxide in ultraviolet carcinogenesis. Cancer Res 1972, 32:2630-2.
22. Sevanian A, Peterson AR. Cholesterol epoxide is directacting mutagen. Proc Nat Acad Sci1984, 81: 4198-205.
23. Sevanian A, Peterson AR. The cytotoxic and mutagenic properties of cholesterol oxidation products. Food ChemToxicol 1986,24:1103-9.
24. Eder K. Gas chromatographic analysis of fatty acid methy lesters. J Chromatogr 1995, 671:113-31.
25. Hayes KC, Pronczuk A, Lindsey S, Diersen-Schade D. Dietary satured fatty acids (12:0, 14:0, C16:0) differ intheir impacton plasma cholesterol and lipoproteins innonhuman primates. Am J Clin Nutr 1991, 53:491-502.
26. Sinclair AJ. Dietary and cardiovascular disease: the significance of recent developments for the food industry. Food Australia 1993, 45: 226-31.
27. Christie WW. Equivalent chain-lengths of methyl esters derivatives of fatty acids on gas chromatography. JChromatogr 1988,447:305-14.
28. Carlson SE, Rhodes PG, Ferguson MG. Docosahexae noicacid status of preterm infants at birth and following feedingwith human milk or formula. Am J Clin Nutr 1986,44:798-804.
29. De Gomes, Dumm INT, Brenner RR. Oxidativede saturation of alpha-linolenic, linoleic, and stearic acidsby human liver microsomes. Lipids 1975, 10:315-7.
30. Greene DHS, Selivonchick DP. Lipid metabolism in fish. Prog Fish Res 1987, 26:53-85.
31. Simopoulos AP. Omega-3 fatty acids in health and disease and in growth and development. Am J Clin Nutr 1991, 54:438-63.
32. Weaver BJ, Holob BJ. Health effects and metabolism of dietary eicosapentaenoic acid. Prog Food Nutr Sci 1988,12:111-50.
33. Okuyama H, Kobayashi T, Watanabe S. Dietary fatty acidsthe n-6/n-3 balance and chronic elderly diseases. Excess linoleic acid and relative n-3 deficiency syndrome seen inJapan. Prog Lipid Res 1997, 35(4):409-57.
34. Metcalfe LD, Schmitz AA, Pelka JR. Rapid preparation of fatty acid esters from lipids for gas chromatographic analysis. Anal Chem 1966, 38:514-5.
35. Smith LM, Dunkley WL, Franke A, Daiiking T. Measurement of trans and other isomeric insatured fattyacid in butter and margarine. J Am Oil Chem.Soc 1978,55:257-61.
36. Baggio SR, Miguel AMR, Bragagnolo N. Simultaneous determination of cholesterol oxides, cholesterol and fattyacids in processed turkey meat products. Food Chem 2005,89:475-84.
37. King AJ, Paniangvait P, Jones AD, German JB. Rapidmethod for quantification of cholesterol in turkey meatand products. J Food Sci 1998, 63(3):382-5.
38. Baggio SR, Bragagnolo N. Fatty acids, cholesterol oxides and cholesterol in processed chicken products. Ital J FoodSci 2006, 2: 199-208.
39. Pereira NR, Tarley CRT, Matsushita M, Souza NE. Proximate composition and fatty acid profile in Brazilian poultry sausages. J Food Comp Anal2000, 13: 915-20.
40. Zanardi E, Dirigoni V, Badiani A, Chizzolini R. Lipid and colour stability of Milano-type sausages: effect of packing conditions. Meat Sci 2002, 61: 7-14.
41. Novelli E, Zanardi E, Ghiretti GP, Campanini G, Dazzi G, Madarena G, Chizzolini R. Lipid and cholesterol oxidationin frozen stored pork, salame milano and mortadella. MeatSci 1998, 48: 29-40.
42. Lercker G, Rodriguez-Estrada MT. Cholesterol oxidation: presence of 7-ketocholesterol in different food products. J Food Comp Anal 2000, 13:625-31.
43. Baggio SR. Óxidos de colesterol, colesterol, lipídios totais e ácidos graxos em produtos cárneos processados. 2004.199f. Dissertação (Doutorado em Ciência de Alimentos) -Faculdade de Engenharia de Alimentos. Universidade Estadual de Campinas, Campinas, SP. 2004.
44. Baggio SR, Bragagnolo N. Cholesterol oxide, cholesterol, total lipid and fatty acid contents in processed meat products during storage. Lebesm-Wiss u-Technol 2006,39: 513-520.
45. Rodriguez-Estrada MT, Penazzi G, Caboni MF, Bertacco G, Lercker G. Effect of different cooking methods on somelipid and protein components of hamburguers. Meat Sci1997,45:365-75.
46. Larkeson B, Dutta PC, Hansson I. Effects of frying and storage on cholesterol oxidation in minced meat products. J Am Oil Chem Soc 2000, 77:675-80.
47. Baggio SR, Bragagnolo N. The effect of heat treatment on the cholesterol oxides, cholesterol, total lipid and fatty acid contents of processed meat products. Food Chem 2006,95: 611-9.
48. Dionisi F, Golay PA, Aeschlimann JM, Fay LB. Determination of cholesterol oxidation products in milk powders: Methods comparison and validation. J Agric Food Chem 1998, 46:2227-39.
49. Paniangvait P, King AJ, Jones AD, German BG. Cholesterol oxides in foods of animal origin. J Food Sci 1995, 60(6):1159-74.
50. Schmarr HG, Gross HB, Shibamoto T. Analysis of polar cholesterol oxidation products: evaluation of a new method involving transesterification, solid phase extraction, and gas chromatography. J Agric Food Chem 1996, 44: 512-7.
51. Osada K, Hoshima S, Nakamura S, Sugano M. Cholesterol oxidation in meat products and its regulationby supplementation of sodium nitrite and apple polyphenol before processing. J Agric Food Chem 2000, 48:3823-9.
52. Sander BD, Addis PB, Park SW, Smith DE. Quantification of cholesterol oxidation products in a variety of foods. J Food Prot 1989, 52: 109-14.
53. Torres E, Pearson AM, Gray JI, Ku PK. Lipid oxidation incharqui (salted and dried beef). Food Chem 1989, 32:257-68.
54. Tai CY, Chen YC, Chen BH. Analysis, formation andinhibition of cholesterol oxidation products in foods: Anoverwiew (Part I). J Food Drug Anal 1999, 7 (4):243-58.
55. Park SW, Addis PB. HPLC determination of C7 oxidized cholesterol derivatives in foods. J Food Sci1985, 50:1437-44.
56. Higley NA, Taylor SL, Herian AM, Lee K. Cholesterol Oxides in Processed Meats. Meat Sci 1986,16: 174-81.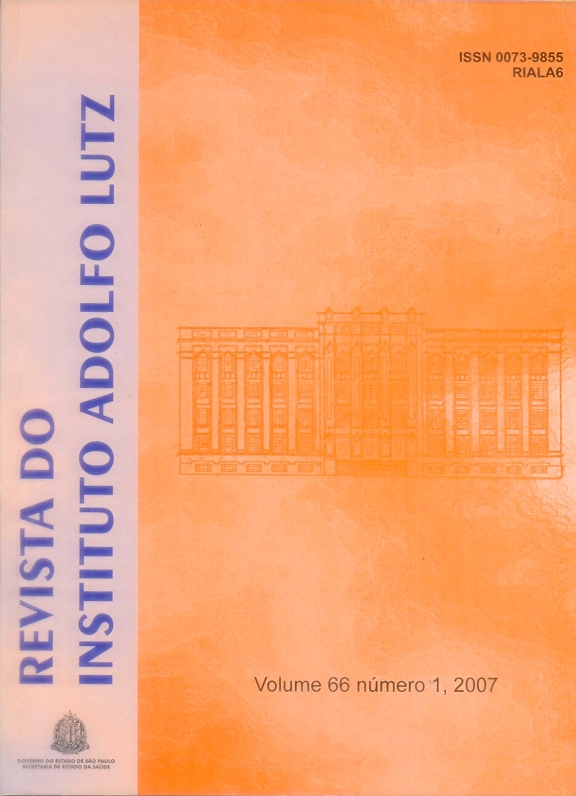 Downloads
Como Citar
Baggio, S. R., & Bragagnolo, N. (2007). Formação de óxidos de colesterol e alteração dos ácidos graxos em produtos cárneos. Revista Do Instituto Adolfo Lutz, 66(1), 10–17. Recuperado de https://periodicos.saude.sp.gov.br/RIAL/article/view/32842
Licença
Copyright (c) 2007 Sueli Regina Baggio, Neura Bragagnolo
Este trabalho está licenciado sob uma licença
Creative Commons Attribution 4.0 International License
.
Este periódico está licenciado sob uma Creative Commons Attribution 4.0 International License.