Recaídas en Hanseniasis: experiencia personal
Palavras-chave:
Hanseniasis, recaídas, monoterapia y poliquimioterapia
Resumo
En un total de 451 pacientes tratados con Monoterapia con Sulfonas, se han observado 31 recaídas, 15 de ellas de forma dimorfa. El intervalo de tiempo entre inactividad y recaídas oscila entre 6 y 39 anos. En los enfermos tratados con Multiterapia se ha observado un único caso.
Referências
1 - CARAYON, A. Manifestations aparemment paradoxales ou mal comues ou cours des rechutes, Acta Leprológica, n. 79, p. 13-17, 1980.
2 -CARTEL, J. L.; Boutin, J. P.; Spiegel, A.;Plichart, R., y Roux, J. F. Longitudinal study on relapses of leprosy in polynesia multibacillary patients on dapsone monotherapy between 1946 and 1970. Lepr. Rev., n. 61, p. 186-192, 1991.
3 - GRUGNI, A.; J. Nadkarni, N.; S. Kini, M.; R. Mehta, R. Relapses in Paubacillary leprosy after MDT-A Clinical study. Inter. I. Lepr., v. 58. n. 1. 1990.
4 - H A S T INGS , R . C . ; J o b , C . K . E s t u d i o s Histopatológicos de la "reversal reaction" en la LL tratada con factor transferencia. XI Congresso Inter. de Lepr. México, p. 225, 1978.
5 - HUAN-YING LI. Problems of Leprosy Relapse in China. Inter. 1. Lepr., v. 61, n. 1, 1993.
6 - JAMET P. ; Baohong J . And The Mar choux, Chemoterapy Study Group. Relapse after long term follow up of multibacillary patients trated by WHO Multidrug Regiment.
7 - JESUDASAN, K.; Pannikar, U. K.; Nani Mozhi, N., y Christian, M. Relapse rates in paucibacillary leprosy - WHO regiment versus dapsone monotherapy
(Abstract). Int. 1. Lepr. 57 suppl., 340, 1989.
8 - JONQUIERES, E. D. L.; Melamed, A. J.; Manzi, R. O.: Tuberculoid relapse in a healed lepromatous (L3) case. Int. I. Lepr, n. 31, p. 1-8, 1963.
9 - KESAVA REDDY, P. y Anil Cherian. Relapse in Hansen's disease after multidrug therapy and its differential diagnosis with reversal reaction. The
Star, 1991.
10 - MAHAPATRA, S. B. y Rancu, G. Transformacition from lepromatous to borderline leprosy under clofazimine therapy. Lepr. in India, v. 48, p. 172-176, 1976.
11 - Marchoux Chemotherapy Study Group. Relapse in multibacillary leprosy patients after stopping treatment with Rifampin-containing combined
regimen. Inter. I. Lepr., v. 60, n. 4, 1992.
12 - PADIAN, T. D.; Jayaprakash Muliyil, Vellut, C. Risk of relapse among non-lepromatous patients released from treatment after dapson monothe
rapy. Lepr. Rev., n. 62, p. 288-296, 1991.
13 - PATTYN, S. R. Incubation time for relapses after treatment of paucibacillary leprosy. Lepr. Rev., v. 55, p. 119-120, 1984.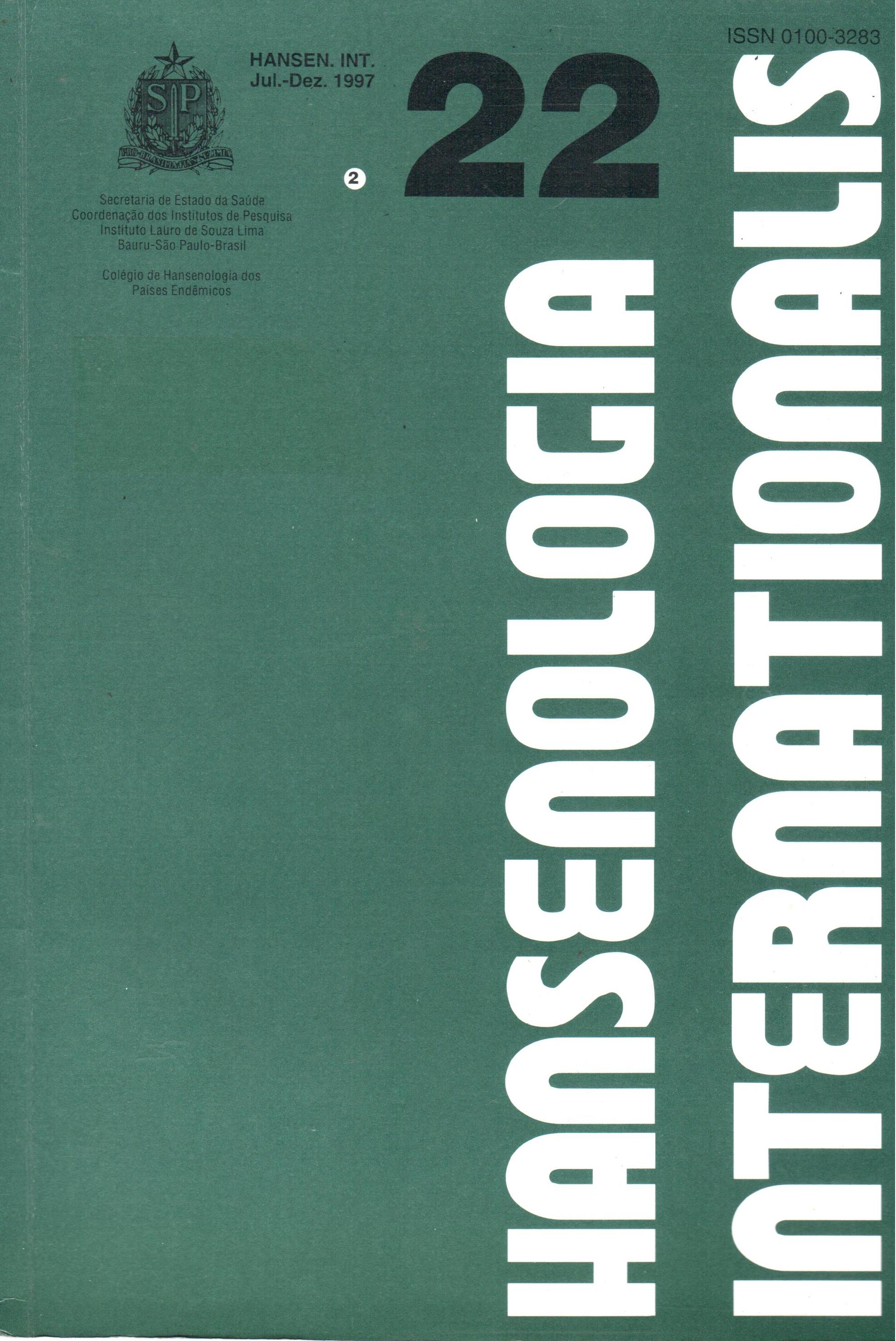 Downloads
Como Citar
1.
Aguas JT de L. Recaídas en Hanseniasis: experiencia personal. Hansen. Int. [Internet]. 30º de novembro de 1999 [citado 27º de março de 2023];22(2):5-9. Disponível em: https://periodicos.saude.sp.gov.br/hansenologia/article/view/36450