Immunoglobulin deposits in Erythema Nodosum Leprosum (ENL) JOSEPHINE ANTHON
Palavras-chave:
Hanseniasis, ENL reaction, Immunology, Immunofluorescence
Resumo
Erythema Nodosum Leprosum (ENL) skin lesions observed by fluorescence microscopy were found to contain immune complexes. While biopsies taken from at least seven ENL lesions contained deposits of immunoglobulin in their vessel walls, twelve of the lesions contained such deposits in the perivascular cell infiltrate. However, immunoglobulin deposits were observed in the dermis of all 25 ENL lesions studied. On the basis of localization of these fluorescent deposits the 25 skin lesions were classified under groups I to III and were correlated with the onset of the reaction. Control biopsies taken from the lepromatous leprosy patients without ENL were uniformly negative for immunoglobulin deposits.
Downloads
Não há dados estatísticos.
Referências
1. AZEVEDO, M. P. & MELO, P. H. A comparative study of the complementary activity of serum in the polar forms of leprosy and in the leprosy reaction. Int. J. Lepr., 34(1):34-38, 1966.
2. COCHRANE, C. G. & WARD, P. A. The role of complement in lesions induced by immunologic reactions. In: INTERNATIONAL SYMPOSIUM ON IMMUNOPATHOLOGY, 4th, 1966. New York, Grime & Stratton, 1966. p. 433-445.
3. FAHEY, J. L. & TERRY, E. W. Ion exchange chromatography and gel filtration.. In: WEIR, D. M., ed. Handbook of experimental immunology. Oxford, Blackwell Scientific Publications, 1967. p. 19-43.
4. FOTHERGILL, J. E. Fluorochromes and their conjugation with proteins. In: NAIRN, R. C., ed. Fluorescent protein tracing. London, Livingstone, 1964. p. 25-33.
5. HOLBOROW, E. J. & JOHNSON, G. D. Immunofluorescence. In: WEIR, D. M., ed. Handbook of experimental immunology. Oxford, Blackwell Scientific Publications, 1967. p. 571-597.
6. LANGE, K.; WASSERMAN, E.; SLOBODY, L. B. The significance of serum complement levels for the diagnosis and prognosis of acute and subacute glomerulonephritis and lupus erythematosus disseminatus. Ann. Intern. Med., 53(4):636-646, 1960.
7. MENEGHINI C-TRIMIGLIOZZI, G.; LOSPA LLUTI M-ANGELINI, G.; BONIFAZI, E. Immunological and haematological research in leprosy. In: WORLD CONGRESS OF THE INTERNATIONAL SOCIETY IN TROPICAL DERMATOLOGY. Abstracts. Japan, Kyoto, 1969. p. 29.
8. SAINTE-MARIE, G. A paraffin embedding technique for studies employing immunofluorescence. J. Histochem. Cytochem., 10(3):250-256, 1962.
9. SPICER, S. S. & PRIOLEAU JR., W. H. Cytochemical studies of lipid and acid phosphatase in human eccrine sweat gland. Lab. Invest., 27(1):9-16, 1972.
10. TIN SHWE. Serum complement (C3) in leprosy. Lepr. Rev., 42(4):268-272, 1971.
11. WATERS, M. F. R.; REES, R. J. W.; SUTHERLAND, I. Chemotherapeutic trials in leprosy. 5. A study of methods used in clinical trials in lepromatous leprosy. Int. J. Lepr., 35(3): 311-335, 1967.
12. WATERS, M. F. R.; TURK, J. L.; WEMAMBU, S. N. C. Mechanisms of reactions in leprosy. Int. J. Lepr., 39:417-428, 1971.
13 WEMAMBU, S. N. C.; TURK, J. L.; WATERS, M. F. R.; REES, R. J. W. Erythema nodosum leprosum: a clinical manifestation of the Arthus phenomenon. Lancet, 2:933-935, 1969.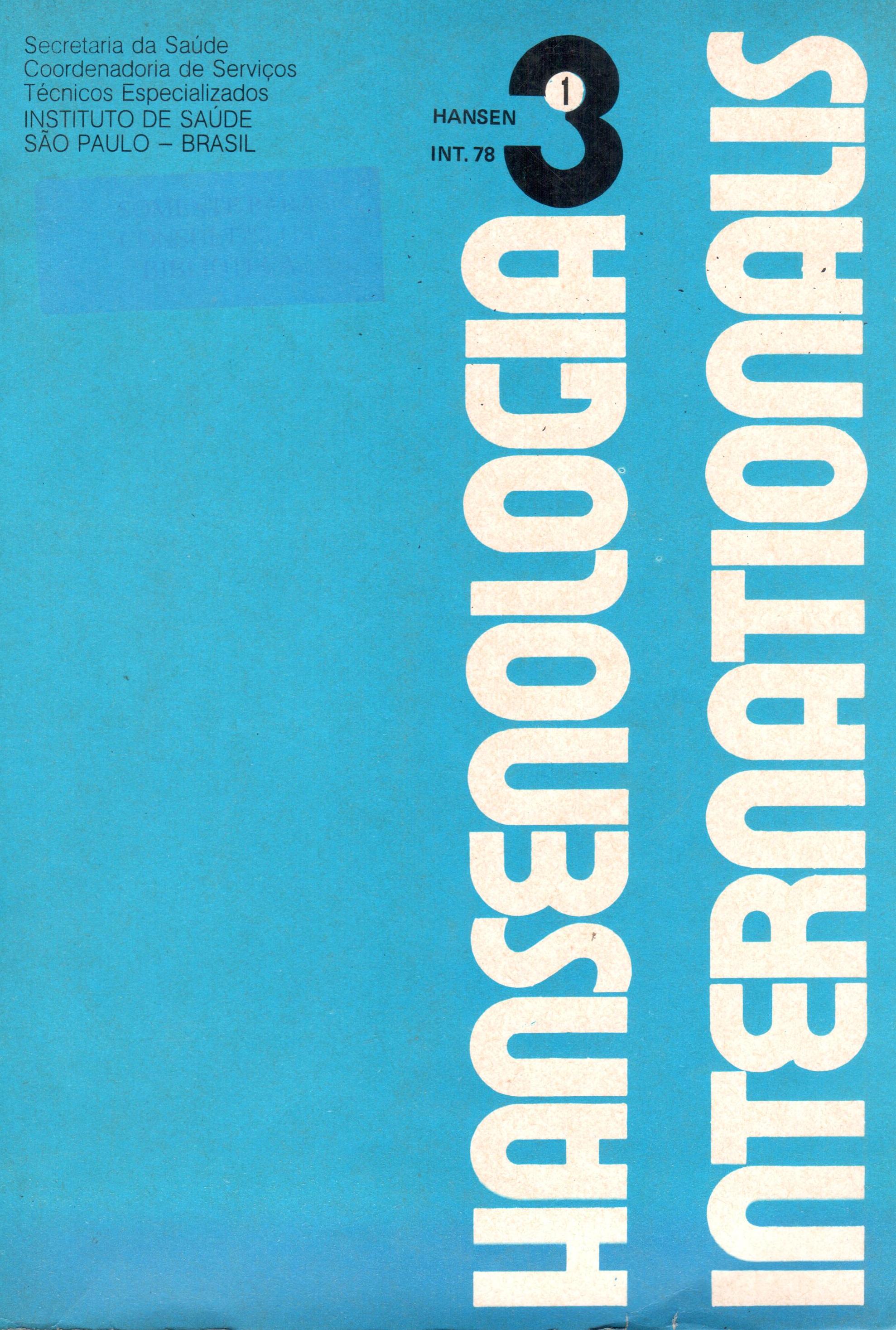 Downloads
Como Citar
1.
ANTHONY J, VAIDYA MC, DASGUPTA A. Immunoglobulin deposits in Erythema Nodosum Leprosum (ENL) JOSEPHINE ANTHON. Hansen. Int. [Internet]. 30º de junho de 1978 [citado 11º de dezembro de 2023];3(1):12-7. Disponível em: https://periodicos.saude.sp.gov.br/hansenologia/article/view/35637